CRYO2017 Report
CRYO2017: The World Cryobiology and Biobanking Conference drew to a close July 23, 2017 after three very busy days of the latest scientific research. The meeting was jointly hosted by the Society for Cryobiology and the China Medicinal Biotech Association and took place at Fengda International Hotel in Hefei, Anhui Province, China.
The meeting was one of the largest in recent memory with over 500 delegates in attendance and was an excellent introduction to the Society for Cryobiology for the local delegates from China.
Above: Opening Ceremony. Photo credit Xuexun Zhou.

The dual language English-Chinese opening ceremony was well attended in Fengda Hotel's International Hall and featured the presentation of the Basil J. Luyet medal to newly elected Fellow Dayong Gao. Current Society for Cryobiology President, Jason Acker, presented President-Elect Gao with the prestigious medal in recognition of his achievements in the field of cryobiology. It was particularly fitting that Gao, who now lives and works in the USA (University of Washington), was presented with the medal in his native country to appreciative applause from the local and international delegates.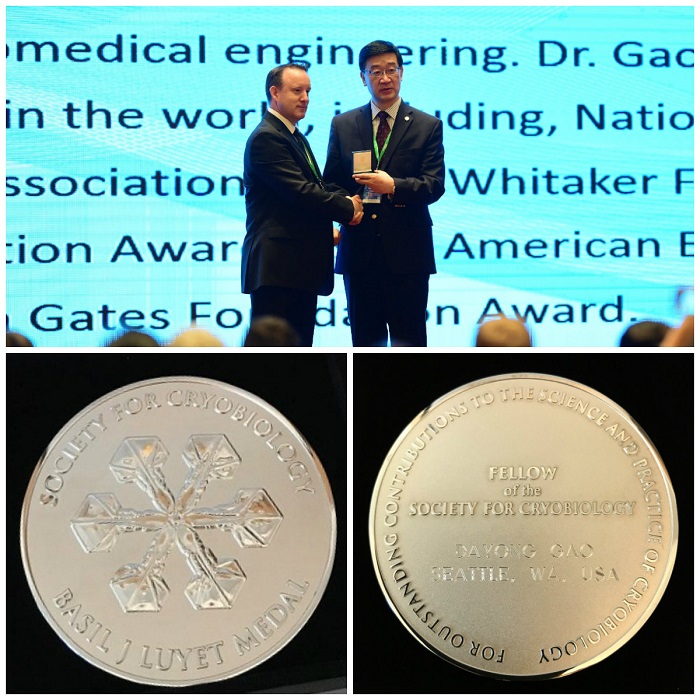 Above: Jason Acker presents Dayong Gao with the Basil J. Luyet Fellow Medal. Photo credit Xuexun Zhou.

Following the opening ceremony, the morning's wide ranging plenary lectures were provided by Jason Acker (University of Edmonton/Canadian Blood Services), Dayong Gao (University of Washington), Sebastian Eriksson Giwa (Organ Preservation Alliance), Greg Fahy (21st Century Medicine), Kelvin Brockbank (Tissue Testing Technologies), Xiaoxi Wei (XTherma), Xuefeng Liu, Xiaowen He (Origincell Technology Group), and Jing Liu.
The afternoon featured a plenary session on Best Practices for Biobanking and Biorepositories, featuring many executive officers and senior members from the International Society for Biological and Environmental Repositories (ISBER), including President Zisis Kozlakidids, immediate Past-President Brent Schachter, former President William Grizzle, Committee Chair Jim Vaught, and Kathy Sexton. ISBER Executive Director, Ana Torres, and ISBER Project Manager Lynsey Mellon were also present at the meeting, publicizing ISBER to the large cohort of Chinese delegates.
The day finished with a poster session in the poster and exhibit hall, with approximately 60 posters on display, including a large number of student posters which were considered for the Student Best Poster Award.

This year's exhibit hall was well populated by a wide range of Chinese and international companies, including ISBER, Avantech Biobanking Solutions, Origio, INLEMS Technologie, CryoKING by Biologix, China National Gene Bank, Tofflon, Cryoxtract, Sorfa Life Sciences, Haier, and Gold-Sim, among others.
Above: A small selection of the many exhibitors at CRYO2017. Photo Credit: Nicole Evans

The second day of the meeting featured four concurrent sessions in the morning covering basic and applied cryobiology, modern technologies of biopreservation, cryobanking for clonally propagated plants, ice blockers and novel cryoprotectants, plant cryopreservation, cryopreservation of stem cells and immune cells, fertility cryopreservation and cryopreservation of reproductive cells and tissues.
The afternoon consisted of a further three concurrent sessions covering regenerative medicine, animal and endangered species, bio-inspired cryopreservation, plant cryopreservation, biobanking and precision medicine, and cryopreservation of blood cells and products. The second poster session was held in the evening, followed by the International Cryobiology Young Researchers (ICYR) dinner of local Anhui province specialities.
The final day of the meeting included three concurrent sessions covering vitrification, micro- and nanotechnology, and the always popular Peter L. Steponkus Crystal Award Competition for the best student oral presentation at the meeting. This year's Crystal Award finalists were Ross Warner (USA), Maryam Hezavehei (Iran), Nikola Dolezalova (UK), and Jiaji Pan (USA). Jiaji Pan, a PhD candidate at the University of Washington, was named the winner of the Crystal Award. Full details of the student award winners can be found in the student award report.
Sunday afternoon also featured the ICYR trip to the Anhui Museum and Maan Coffee Corner. Full details of all ICYR activities will be available to read in the ICYR report in next month's newsletter.
The final evening of the meeting included the traditional awards ceremony and banquet. Following an amazing dinner of Chinese specialities and locally brewed spirits, Past-President Erik Woods, presented outgoing President Jason Acker and outgoing governors W. John Armitage and James Benson with their etched glass awards for services to the Society. Full details and photos of the social events at CRYO2017 will be available in next month's newsletter.
Share this post: