Tiantian Zhang Elected to CryoFellow 2021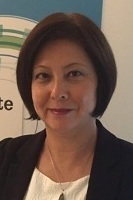 The Society for Cryobiology is pleased to announce Dr. Tiantian Zhang (Bournemouth University) has been elected as a CryoFellow at the Society's recent Board of Governors Meeting.
Tiantian joined the Society for Cryobiology in 1992 and was elected to Fellow in 2021.
Tiantian Zhang has proven to be an outstanding researcher and research leader who has and currently produces high quality/high value research which continues to have a significant impact on the international aquatic cryopreservation community and beyond. Dr. Zhang´s pioneering research on fish embryo/oocytes chilling sensitivity and membrane permeability has contributed significantly to the understanding of the problems associated with fish oocyte and embryo cryopreservation. With more than 100 papers and many book chapters and protocols published that have become a must-read on aquatic cryopreservation, her work has impacted several generations of researchers working with aquatic organisms. In addition to her own academic achievement, she is also passionate about equal opportunities for accessing science education/research and has championed many initiatives and practices to make cryobiology/science education and research more accessible for women and young people from disadvantaged backgrounds. She led the development of the first Cryobiology MSc courses in the world with a focus on aquaculture and conservation. She has developed mentoring programs for science education and research and has personally mentored a large number of early-career cryobiologists/scientists all over the world.  Apart from the scientific outcome and legacy, Dr. Zhang has been very active in her role supporting the Society for Cryobiology and related Society activities including contributing to committee work, cryobiology journals, organization of Annual meetings and specialist sessions and workshops, becoming a member-elect of the Board of Governors in 2013. 
Dr. Zhang will be presented with the prestigious Basil J. Luyet CryoFellow medal at next year's Annual Meeting.
Share this post: