CRYO2018 Report 
CRYO2018, which took place July 10-13 at the Spanish National Research Council (CSIC) in Madrid, Spain, was one of the Society's largest meetings in recent memory, attracting 300 abstract submissions and 250 delegates from 35 countries worldwide.

For full details of the program download the electronic copy of the program book and abstract supplement. You can also view all the photos from CRYO2018. 

Program
The meeting featured 175 oral presentations and over 100 poster presentations, across 5 plenary sessions, 10 symposia, 17 sessions and 2 poster sessions. Alongside traditional sessions exploring cell and tissue preservation, ice formation, tools and technologies, and plant cryopreservation, there were several sessions which stood out as sessions of note. These included three sessions organized jointly with the Organ Preservation Alliance on the current situation and future research required for organ preservation, and cryopreservation of reproductive tissue for cancer survivors. Additionally, due to the expertise of the local organizing committee, the meeting also included sessions on Cryobiology in Food Science and Technology and Challenges in Cryobiology for Microorganisms.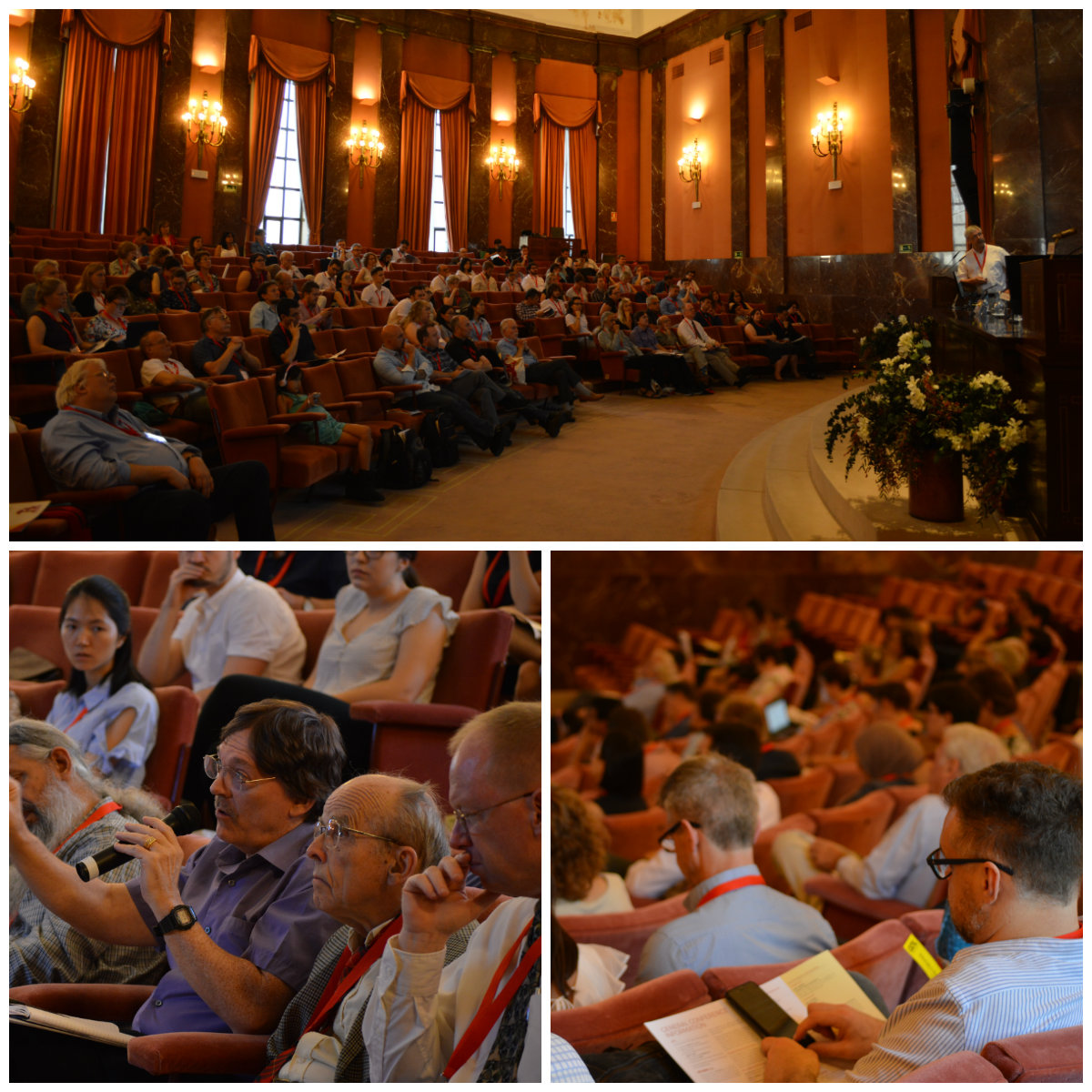 Above: Delegates watch the opening ceremony in the Marble Hall
Below Left: Greg Fahy questions a speaker; Below Right: A delegate studies the program 
Sponsors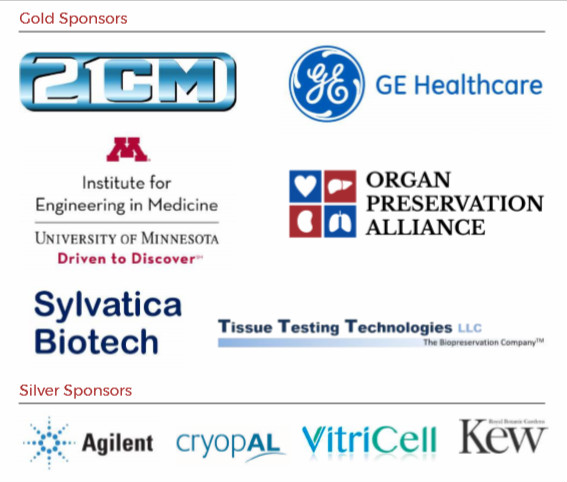 Thank you to the sponsors who helped make CRYO2018 a success! Organizing a meeting of this size is a tremendous undertaking, and the financial support given by our sponsors helps to make this annual event possible. Remember to support the sponsors who support the Society for Cryobiology.  
Gold Sponsors
21 Century Medicine
GE Healthcare
Institute for Engineering in Medicine, University of Minnesota
Organ Preservation Alliance
Sylvatica Biotech (website unavailable)
Tissue Testing Technologies LLC (website unavailable)

Silver Sponsors 
Agilent
CryopAL
VitriCell 
Royal Botanic Gardens, Kew
Student Awards and Travel Grants

Crystal Award
Instituted in 1992, the Peter L. Steponkus Crystal Award is the Society's most presitigious student award for the best student presentation at the Annual Meeting. Chosen from four finalists, this year's Crystal Award was won by Zoran Marinovic, a PhD candidate in the Department of Aquaculture at Szent István University, Hungary. Zoran's presentation Testis Cryopreservation and Spermatogonia Transplantation as a Tool for Zebrafish Line Reconstitution won high praise from the judges, particularly for his strong responses to the judges' questions. The Crystal Award carries an honorarium of $1,000. 

Best Poster Award
The competition for this year's student best poster award was strong, with approximately 40 entries, judged by the Awards Committee over the two poster sessions. Honorable mentions were awarded to Vera Sirotinskaya (The Hebrew University of Jerusalem, Israel), Kezhou Wu (University of Alberta, Canada), and the winner announced as Mélanie Chow-shi-yée. Mélanie is a PhD candidate in the Department of Biological Scicnces at the Université du Québec à Montréal, Canada. Her winning poster was titled Protection against cell death during cryopreservation with wheat proteins: which mode of cell death? The Poster Award carries an honorarium of $500.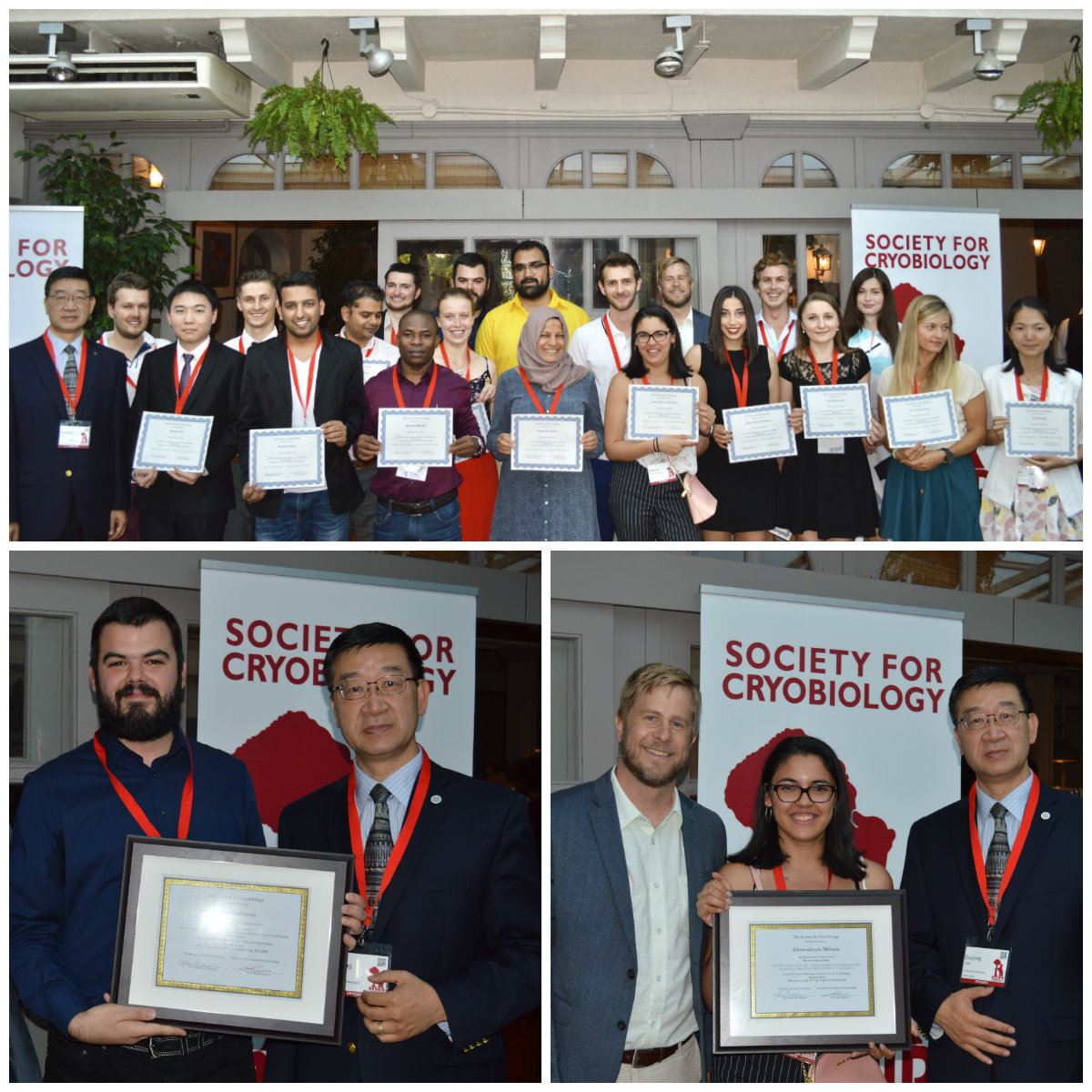 Above: All student travel grant recipients and award winners
Bottom Left: Zoran Marinovic, winner of the Crystal Award, pictured with Society for Cryobiology President, Dayong Gao. 
Bottom Right: Mélanie Chow-shi-yée, winner of the Best Poster Award, pictured with Awards Committee Chair, James Benson and Society for Cryobiology President, Dayong Gao

Critser Award 
The Critser travel award is awarded to the student with the highest rated extended abstract. This year's winner was Vitalii Mutsenko, a PhD candidate in Regenerative Sciences at the Institute for Multiphase Processes, Leibniz University Hannover, Germany. His research develops methods for xeno-free cryopreservation of stem cells in suspension and cryopreservation fo 3D tissue-engineered constructs. 

Travel Grant Winners 
This year the Awards Committee received an unprecedented number of applications for student travel support for CRYO2018. Out of 54 applications received, the committee was pleased to offer student travel awards, valued at over $15,000 to 18 students from Europe, North America, the Middle East, and Asia/Pacific. The travel grant covers meeting registration and some travel and accommodation costs. 

The travel grant winners in full were:
Lachlan Cambell: Australia
Olena Chabanenko: Ukraine
Melanie Chow-Shi-Yee: Canada
Nikola Dolezalova: United Kingdom
Tania Garcia-Martinez: Spain
Bruno Guerreiro: Portugal

Yevhen Horokhovatskyi: Czech Republic
Mariia Hrechyshnikova: Ukraine
Bin Huang: China
Daniel Kelly: United States
Zoran Marinovic: Hungary
Yulia Martnova: Ukraine

Momoh Karmah Mbogba: China




Fazil Panhwar: China




Tanushree Patra: India




Vera Sirotinskaya: Israel




Andres Vasquez-Rivera:Germany




Kezhou Wu: Canada

Social Program 
The meeting began with the traditional President's Reception at the UNESCO World Heritage Site the Residencia de Estudiantes, site of lectures by Marie Curie, Albert Einstein, and other famous scientists from the late-nineteenth and early-twentieth centuries. Delegates were serenaded by by Arriverderci Lola, who played a mixture of traditional and contemporary Spanish songs. 

On Wednesday July 11, the ICYR held a popular Sangria making course in downtown Madrid, on the terrace of La Lonja del Mar restaurant, overlooking Madrid's imposing Royal Palace. Was the highlight learning how to make Sangria, or actually drinking it? Judging by the pictures, the drinking may have won... 
Above: ICYR Sangria making event held at La Lonja del Mar restaurant
Below: Left, Musica a la Carte performs at the banquet; Right, Awards Ceremony at the Banquet

The gala banquet and awards ceremony was held on Thursday July 12, and is always a highlight of the meeting. CRYO2018's sponsors were presented with certificates of appreciation, and a number of outgoing Board members received service awards, including Adam Higgins, treasurer 2014-2017 and Wim Wolkers and Gang Zhao, both Governors 2015-2017. The winners of the Crystal and Best Poster Awards were announced, as well as presentation of certificates to all student award winners and travel grant recipients. Following a traditional Basque dinner at the historic family-owned restaurant, Jai Alai, diners were treated to the unforgettable sounds of popular Madrid swing band, Music a la Carte, and revelry continued late into the night. 
Share this post: