2017 Student Award Winners
Congratulations to our Student Award Winners

In 2017 the Society for Cryobiology awarded over $12,000 to our student members in travel grants and prize money.




Above: All Student Prize Winners and Travel Grant Awardees
Back Row: James Benson, Chair of the Awards Committee; Ilya Savchenko (Israel); Ross Warner (USA); Krishna Ramajayam (India).
Front Row: Dayong Gao, President-Elect, Society for Cryobiology and Co-Chair of CRYO2017; Nikola Dolezalova (UK); Chandrika Kumari (India); Wenhui Li (China); Krishnaa Mahbubani (UK); Kezhou Wu (China); Jason Acker, President, Society for Cryobiology.
Not pictured: Wei Di (China); Maryam Hezavehei (Iran); Xueru Jiang (China); Jiaji Pan (USA).

Each year the Society for Cryobiology invites student members to submit an extended abstract to be considered for a number of awards including the prestigious Crystal Award for best student oral presentation, the Critser Travel Award, sponsored by the family of late cryobiologist John K. Critser, and a large number travel grants to attend the Society's annual meeting in order to present their research. All students presenting a poster at the meeting are also eligible to enter the Best Poster Award.


Above: Peter L. Steponkus Crystal Award Finalists: James Benson, Chair of Awards Committee; Ross Warner (USA), Maryam Hezavehei (Iran); Nikola Dolezalova (UK); Jiaji Pan (USA).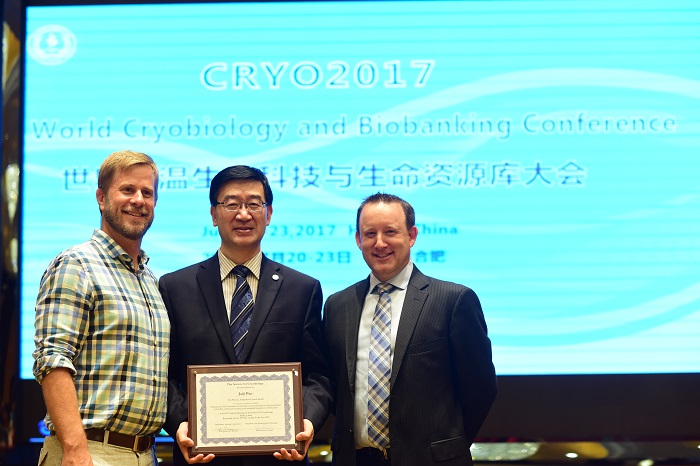 Above: Dayong Gao (center) accepts the Crystal Award on behalf of winner Jiaji Pan (USA).

This year's finalists for the Crystal Award for best student oral presentation were Jiaji Pan, Ross Warner, Maryam Hezavehei, and Nikola Dolezalova.

After careful deliberation the judges awarded first prize to Jiaji Pan. Jiaji is currently studying at the University of Washington under Society President-Elect, Dayong Gao. His winning presentation was entitled "Optimization of EM resonance rewarming for cryopreservation of large biomaterial: hybrid EM-conduction rewarming and embdedded nanoparticle enhancement". Jiaji wins $1000 and adds his name to the long list of notable Crystal Award winners such as John M. Baust, Ram Devireddy, James Benson and Jens Karlsson.
Chair of the Awards Committee, James Benson of the University of Saskatchewan, said after the awards ceremony, "It is always exciting to run the student awards program at the Society for Cryobiology Annual Meeting. I love interacting with students on the cutting edge of cryobiological research and watching their research program grow over successive annual meetings. The Peter L. Steponkus Crystal session was once again a fantastic highlight of the high quality research being undertaken in cryobiology, again demonstrating the diverse interests and approaches used in our field."
Above: Kezhou Wu (center) accepts his Poster Award.
Instituted in 2012, the Best Poster Award is the Society's most recent student award. Since then the award has gained traction with many high quality student posters submitted for consideration each year. The award, which carries an honorarium of $500, was won this year by Kezhou Wu, who is currently a PhD candidate at the University of Alberta. His winning poster was entitled, "Optimization of additives to mitigate chondrocyte toxicity during exposure to cryoprotective agents."

In recognition of the many excellent posters submitted, the judges also made honorable mention of Ross Warner and Ilya Savchenko.
Award Winners in Full

Crystal Award Winner
Jiaji Pan (USA)

Crystal Award Finalists
Ross Warner (USA)
Maryam Hezavehei (Iran)
Nikola Dolezalova (UK)

Critser Award Winner
Ross Warner (USA)
Travel Grant Winners
Wei Di (China)
Nikola Dolezalova (UK)
Maryam Hezavehei (Iran)
Xueru Jiang (China
Chandrika Kumari (India)
Wenhui Li (China)
Jiaji Pan (USA)
Krishna Ramajayam (India)
Ilya Savchenko (Israel)
Ross Warner (USA)
Share this post: