Miao Zhang Defends Thesis
Miao Zhang Defends Thesis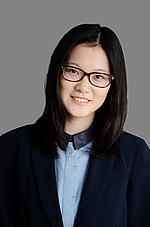 Student member of the Society for Cryobiology, Miao Zhang, is to defend her thesis on June 23, 2017. During her PhD studies Ms. Zhang received the Society's John K. Critser award for the best extended student abstract in 2015 and the Peter L. Steponkus Crystal award for the best student oral presentation at the Society's meeting in 2016.

Thesis: Towards dry preservation of mammalian cellls
The central aim of this thesis was to test if trehalose can be introduced into mammalian cells during freezing-induced membrane permeabilization and if this subsequently stabilizes cells during freezing and/or freeze-drying. It was hypothesized that membrane-impermeable molecules including trehalose can be loaded into cells through freezing-induced membrane phase transitions. One of the conclusions was that mammalian cells can be loaded with membrane-impermeable compounds (i.e. trehalose) by subjecting the cells to freezing-induced osmotic stress and membrane imperfections. It was shown that trehalose can be used as sole cryoprotectant to cryopreserve cells. Preloading with trehalose via fluid-phase endocytosis did not increase cryosurvival rates if trehalose is also added as extracellular protectant. It is particularly freezing-induced trehalose uptake that facilitates cryosurvival when trehalose is used as the sole cryoprotectant. One other aim was to investigate if freezing-induced uptake of trehalose stabilizes cells during freeze-drying, and to assess the effect of trehalose on storage stability of DNA during freeze-drying and dried storage. No viable cells were recovered after freeze-drying and rehydration. DNA was found to be largely intact directly after freeze-drying. DNA damage in freeze-dried cells progressively increases with storage duration and temperature. DNA damage was prevented by storage of the samples at 4°C. It was shown that trehalose reduces DNA damage during storage.

Biography
Miao Zhang received her education at Southeast University (Nanjing, China) (BE, 2011), after which she completed master's studies at Ulm University (Ulm, Germany) (MSc, 2013). She was accepted in the PhD program 'Regenerative Sciences' in 2013 at Hannover Medical School (Hannover, Germany) and conducted her PhD project at the Institute of Multiphase Processes, Leibniz University of Hannover (Hannover, Germany), under the supervision of Dr. Willem Wolkers.
Share this post: